Mov­ing the mark toward a more account­able future.
There's more to accountability than just doing your job.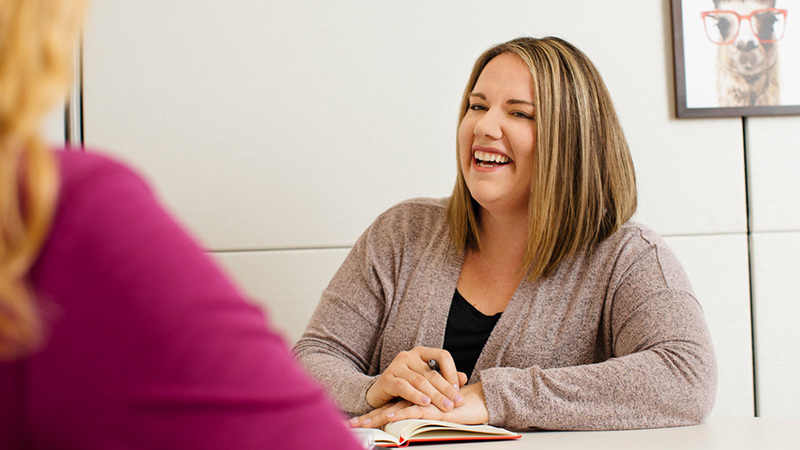 Accountability is one of those values you expect from an insurer – something that seems like a requirement. It's true, accountability is a natural part of insurance. Insurers are expected to be there when customers need us, remain stable in uncertain economies and meet all the promises we make. But there's more to accountability than just doing what's expected – and Assurity is dedicated to pushing our accountability to new levels. Here's how.
Accountability is a culture that begins from within the company. From individual associates to entire departments, regular meetings between employees and managers along with a company-wide scorecard system keep us on track. They let us know what we're responsible for, and we own our results whether they're good or bad. Of course, a callout culture doesn't foster accountability – it does the opposite. So we recognize good work and reward those behaviors. We also hold ourselves to a high standard and acknowledge mistakes if we make them. When everyone is accountable around you, it makes it easy to be accountable yourself.
Individual accountability like this stems from wide-reaching corporate goals. As a company we want to be accountable to not only ourselves and our customers, but to the planet and society around us. We can't say we're working to protect people if our actions indirectly harm the world. We have a big footprint, and we believe we're responsible for making sure our work is sustainable, socially conscious and beneficial for our whole community.
To achieve that accountability, we attained Certified B Corp status in 2015. That designation means we're actually accountable for the intangible parts of our business – our environmental and social impact are considered and measured by B Labs so we can maintain our certification. It shows that we're accountable not only to ourselves and our stakeholders, but everyone (and everything) we affect. Being a Certified B Corp gives us another level of accountability we can adhere to and measure ourselves by – we can even watch ourselves growing year after year and helping the world in bigger ways.
So, yes – we're accountable to our customers. We're accountable to our employees, and we're accountable to ourselves. Most importantly, though, we're accountable to the world – to you. We want to push insurance, and business as a whole, to embrace a more holistic view of accountability where they're responsible for more than the bottom line. Little by little, Assurity and thousands of other businesses across the world are moving the mark toward a more accountable future – and a world that's better for everyone.