Disability Income Insurance
HOW IT WORKS
Replaces a portion of your pay when you miss work because of a covered disability.
Why do you need disability income insurance?
If illness or injury kept you from bringing home a paycheck, how would your family make ends meet? Disability income insurance can help. It replaces some of your lost income so you can continue to pay your mortgage, utilities, childcare, and other everyday expenses.
Insure what you earn
You insure your home and your car—but your income and earning potential are more valuable than any possession. Think of disability income insurance as protection for your paycheck.
Keep finances on track
If you're unable to work, the money from disability income insurance can help you avoid draining savings or retirement accounts.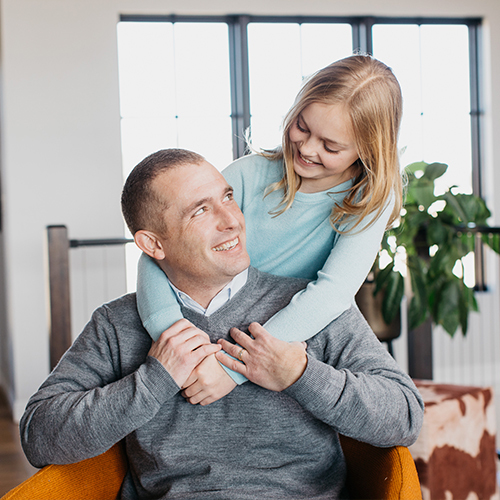 How much disability income insurance do you need?
Everyone's situation is different, but generally speaking, you should consider a monthly benefit that covers your monthly living expenses. For many, that amount is the same as their monthly take-home pay, generally 60–70% of their gross monthly income.
Your best financial asset: You
Compared to the recession in 2009, most Americans feel better about their financial situation today. If the past has shown us anything, it is the importance of our income. Protecting your income in case something unforeseen happens is sound financial planning.
Don't bite off more than you can chew
Can't afford that much coverage right now? Pick a benefit amount that covers a few of your biggest monthly expense items, like your mortgage, student loans or utilities. Some income replacement is better than nothing.
Key features of disability insurance
Disability insurance provides a monthly cash benefit to help replace some of the wages you lose when you're too sick or injured to work.
Affordable monthly protection
Typically disability insurance costs between one and three percent of your salary. That's dollars a day to help protect your family and your lifestyle.
Flexible coverage
Choose how long you wait to get paid, as short as 30 days—and choose how long you receive benefits, from one year up to retirement age.
Pays if you can't do your job, not just any job
Get paid if you can't work at your regular job for up to 2 years, even if you still might be able to work in another job.
Pays while off work and part time
Get paid the full monthly benefit amount if you're totally disabled, and then partial monthly benefits if you return to work part time.
Insurance solutions that fit your needs
Corie, 35

Married with a young daughter

Nurse earning $60,000/year

I'm thankful I had help paying for my daughter's daycare after I hurt my back and couldn't work."

Brian, 45

Single with a kid preparing for college


Electrician earning $52,000/year

I know I need a solid plan to protect my son and my finances in case I get hurt on the job."
These products may contain reductions of benefits, limitations and exclusions. For costs and complete details of the coverage, please contact your insurance representative or Assurity to review the policy for more information.
Policy Form No. I H0920 and Rider Form No. R I0929 underwritten by Assurity Life Insurance Company, Lincoln, NE. Policy Form No. I H1605 NY and Rider Form No. R I 1724 NY underwritten by Assurity Life Insurance Company of New York, Albany, New York.
Assurity is a marketing name for the mutual holding company Assurity Group, Inc. and its subsidiaries. Those subsidiaries include but are not limited to: Assurity Life Insurance Company and Assurity Life Insurance Company of New York. Insurance products and services are offered by Assurity Life Insurance Company in all states except New York. In New York, insurance products and services are offered by Assurity Life Insurance Company of New York, Albany, NY. Product availability, features and rates may vary by state.
1 Provides a 2-year benefit period with a 90-day elimination period based on a 35-year-old, non-smoking female earning $60,000 annually, total monthly premium $53.50
2 Provides a 2-year benefit period with a 90-day elimination period based on a 45-year-old, non-smoking male earning $52,000 annually, total monthly premium $39.43
Important Disclosure Information