Reimag­in­ing cus­tomer ser­vice in a remote work environment.
What happens when a call center has to decentralize?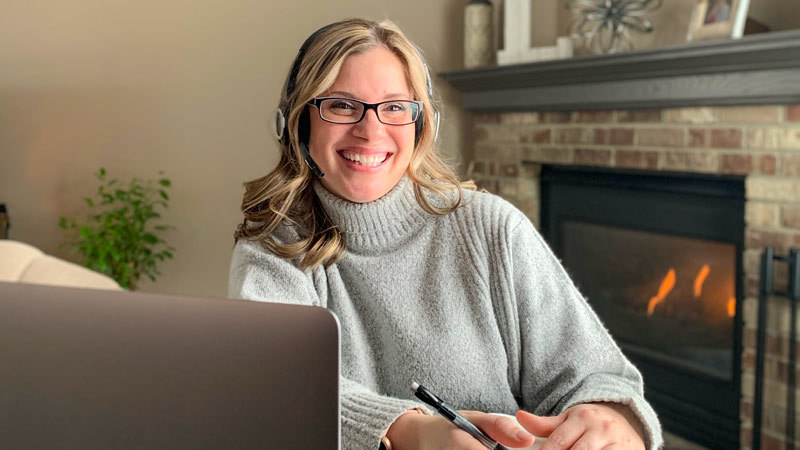 Last spring, tens of millions of people quickly found themselves working in their dining rooms, basements or even back porches. The majority of Assurity's approximately 400 employees were no exception. Tools like Zoom and Microsoft Teams helped ease the transition for those of us who need little more than a laptop and stable internet connection to work from home.
But what about our Customer Connections team – our associates who stand at the ready to assist our policyholders and distribution partners, who were used to being equipped with all the bells and whistles that make a call center run?
For them to make the transition, all it took was a little ingenuity – and a laptop and headset, of course.
"Last March, there wasn't much time to think about how long we might be away," said Erika Schneider, Assistant Supervisor. "It was a call to action to get everyone prepared to work efficiently from home."
And now, from their dining rooms, basements or wherever, Assurity's Customer Connections associates are providing the same real, responsive and efficient service for which they're known.
"I believe there's been an increased need from our existing customers as well as our newer ones – who maybe found us on the internet – to call us for their insurance needs," said Jody Strodtman, Lead Customer Connections Representative and one of Assurity's home office-licensed agents. "And people like familiar. If they had a great experience with us, naturally they want to come back."
Like Assurity's other teams, Customer Connections associates regularly connect with one another to discuss best practices and any barriers that might arise.
"Strategies we discussed about being more attentive and successfully monitor holding calls and wrap-up times have proven successful," said Jon Rouse, Supervisor. "Associates also find the weekly stats we send out to be very helpful."
The work-from-home shift helped the team further their transition away from paper applications and hard-copy reference and training materials – resulting in benefits beyond quicker turnaround times, Schneider emphasized.
"Reduced paper and other office supply use saves Assurity money – and anytime we can save money, it has a positive effect on our company as well as our customers," she said. "We're also helping the environment by producing less waste, which benefits us all."
Although associates look forward to returning to the office, they have embraced working from home and have delivered great customer experiences – and good results. They're a big reason why Assurity earned a spot on Newsweek's 2021 America's Best Customer Service list.
"Despite all the technical, personal and equipment obstacles that had to be overcome in a very short time period, I'm extremely proud of the patience, ingenuity and pride our associates have shown," said Heith Fulmer, Director Customer Connections.
"Now more than ever," Schneider added, "it's important to stay connected and be adaptive to change."